Tips for finding Webcam URLs:
When adding a new camera to the Webcam Screen Saver, the following dialog box appears requesting both a Cam Name and a Cam URL.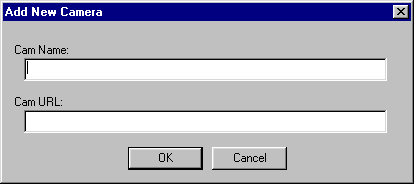 In the Cam Name edit box, you may enter whatever descriptive name you wish. The Cam URL is the Internet address of the actual image. The correct Cam URL must be entered in order for the screen saver to display the image properly .

The following tutorial describes how to find Cam URLs for most sites:
As a first example, we will use the web cameras found on Discovery.com's LIVE CAMS page. The URL is http://www.discovery.com/cams/cams.html.
This page features a number of interesting webcams. We will chose, in this example, the Penguin Cam located at http://www.discovery.com/cams/penguin/penguinmain.html. This page opens a window with the Penguim Cam contained. To obtain the Cam URL, place your mouse cursor over the image and click on the right mouse button. (Note that you normally use your left mouse button). The following menu will pop up: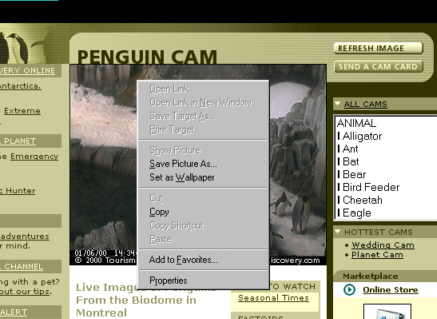 Select Properties at the bottom of the menu. The following information dialog will appear: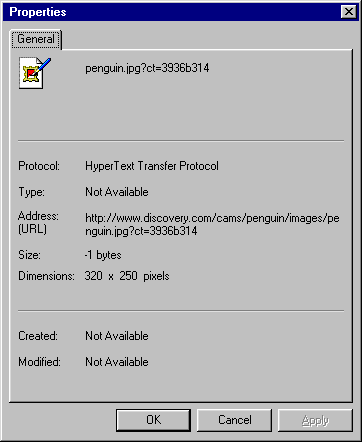 The third item on the list, "Address (URL)", is the Cam URL for the Penguin Cam. Therefore, http://www.discovery.com/cams/penguin/images/penguin.jpg?ct=3936b314 should be entered as the Cam URL.
What if that does not work?
Some Webcams use JavaScript to display their images. For those cams, a menu does not appear when you right-click on the image. If right-clicking on the camera images does not display a menu, most sites offer an alternative method for opening up the webcam window.
A webcam window can usually be opened on a site by clicking on the "Open a Floating Window" option (sometimes referred to as a "Remote Window" or "Pop-up Window"). In other cases, a message is displayed which instructs the user to "Click Here" if they do not see an image. Once you are able to view the webcam image, try right-clicking on the image to find the Cam URL.
Many webcam sites, such as the Wild Birds Unlimited FeederCam page located at http://www.wbu.com/feedercam_home.htm., provide alternate methods to view the webcam. This is normally a Non-JavaScript version of the cam, and is accompanied by text such as "If you do not see the image click here" or "AOL or WebTV viewers can click here". (NOTE: Even if you do see the image and are not an AOL or WebTV user, you should follow the link.) Following those links will lead you to a version of the Webcam that allows you to find the Cam URL by right-clicking on the image.
Finally, if all else fails, you can always send an e-mail message to the webmaster of the webcam site asking them what the URL of the Webcam Image is.

Other Webcam Screen Saver Related Links:
Suggested Webcams and Webcam Link Packs
Webcam Screen Saver FAQ with Tips & Tricks
Webmasters earn $$$ with Affiliate Program
To obtain technical support, select Company on the menu above.

Home | Software | Purchase | Download | Company
Copyright © 2001 Esm Software. All Rights Reserved.