Use your own images as background wallpaper:
Personalize your computer desktop!
NEW!: Full support for Windows NT, 2000 and ME
Download a free evaluation copy now!
Register your copy now!

e-motional Desktop Wallpaper Manager Awards & Reviews: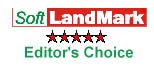 Use your own images as background wallpaper to personalize your computer desktop. Have special images on your display in the background at all times, and cycle through them automatically, while you work unimpeded in the foreground. Keep your memories alive of friends, family, pets or vacations, or simply gaze at your favorite movie star!
Customize your desktop – create a background wallpaper using your own images:
Support for JPEG, BMP and GIF image formats.
Cycle through an unlimited number of images automatically:
- Change images upon system startup,
- Cycle through images after a specified amount of time, or
- Update to a new image with a single click
Center the image on your screen, resize the image to fit the screen, or create a tiled effect.
**TRICONS feature** - unique to e-motional.com products! Adjust the transparency of Windows Program Icons to blend well with your wallpaper image. (please see sample screen shots below)
Easy access to setup and configuration options from the tool tray.
Simply click on the wallpaper icon:
Compatible with Microsoft Active Desktop (included with Internet Explorer) which provides the ability to import and display live data from the web.

"TRICONS" (TRansparent ICONS): Unique Feature
The e-motional Images Screen Saver supports "TRICONS" (TRansparent ICONS):
a unique feature developed by e-motional.com software!
TRICONS blends the program icons on your desktop into the wallpaper image.
The icon text blends in with the background, for a result that is pleasing to the eye.
Enjoy the beauty of your wallpaper images with less desktop clutter!
Here is an example of a desktop with and without the TRICONS feature enabled:
| | |
| --- | --- |
| without TRICONS: | with TRICONS: |
| | |
Note how the colored box around the text has disappeared,
so you can see the wallpaper image better!
To enable this option, please click on the 'Options' tab of the wallpaper configuration menu,
and select the 'TRICONS' option at the bottom.

System Requirements
Windows 95, 98, ME, NT, 2000 and XP
1MB of free disk space
16MB of RAM
8-bit, 16-bit or 24-bit display graphics (256, 32K, or 16M colors).
Download a Free Copy!
Obtain a free evaluation version of the e-motional Wallpaper Manager by clicking on Download above.
Screen Shots
The following images illustrate some of the configuration options and potential uses of your e-motional Desktop Wallpaper Manager. Click on an image to see it full-sized.
Support
To obtain technical support, select Company on the menu above.

Earn $$ with our Affiliate Program!
Do you have a website that offers products or services complementary to ours?
Please consider joining our Affiliate Program!
You can resell any e-motional.com product, and earn commission on every sale.

---
Home | Software | Purchase | Download | Company | Français
Copyright © 1999-2003 Esm Software. All Rights Reserved.